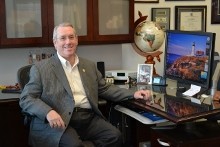 The Differences that make the Difference
Hi, I'm Daniel Roberts and welcome to my office.
For a two hour complimentary consultation--click here!!
I'm glad you are here.
Choosing the right Financial Advisor is a critical decision. Here are the top five reasons why people choose me:
Broad Expertise – With over 40 years of financial services experience, two degrees, 15 advanced certifications, and eight financial licenses, I have the experience and education to help you set yourself up for financial success.

Unique Investment Strategy – The economy is not static, and your investment allocation and holdings should not be either. My unique Cyclical Investing Strategy takes advantage of economic cycles and avoids the shortcomings of "buy and hold".

Comprehensive Approach – I look at your financial picture from every vantage point. You'll get a personalized 6-Component Financial Plan that addresses everything from cash flow, income taxes and debt to wealth growth, personal risk, and estate planning.

Complete Independence – Because I am not limited to offering just the financial products and vehicles provided by one particular company, you get the peace of mind that comes with knowing you're getting completely unbiased advice.

Personalized Service – You'll never be "just a number" with me. In addition to my Quarterly Financial Update Report Client Service Model and reviews, you'll always have someone to call when financial issues arise. My expert financial guidance and advice is included as part of the service I provide.
I look forward to serving your financial interests and making a difference in your life and future.
Daniel Roberts, MSFS